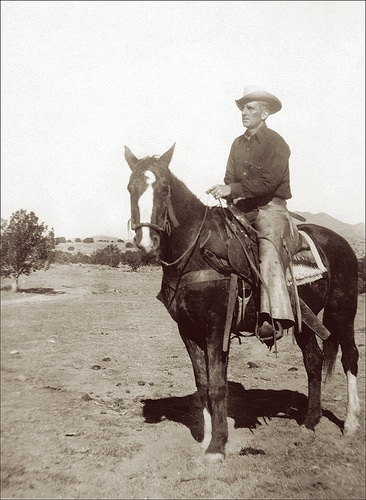 What my tombstone will say...
He Done His Damdest
By E. Bell Guthrey
I ask that when my spirit quits this shell of mortal clay
And o'er the trail across the range pursues its silent way,
That no imposing marble shaft may mark the spot where rest
The tailings of the bard who sang the praises of the West.
But, that above them may be placed a slab of white or gray,
And on it but the epitaph carved in the earlier day,
Upon the headboard of a man who did the best he could
To have the bad deeds of his life o'ershadowed by the good:
"He Done His Damdest."
Engrave upon the polished face of that plain, simple stone,
No nicely worded sentiment intended to condone
The sins of an eventful life, nor say the virtues wiped
Away the stains of vice — in lines original or swiped;
That rough but honest sentiment that stood above the head
Of one who wore his boots into his final earthly bed
Is good enough for me to have above my mould'ring clay—
Just give the name and day I quit and underneath it say:
"He Done His Damdest."
Some who are overstocked with phony piety may raise
Their hands in blank amazement at the sentiment and gaze
Upon the simple marble slab 'neath which the sleeper lies,
With six or seven different kinds of horror in their eyes;
But hardy sons and daughters of this brave and rugged West
Will see a tribute in the line so pointedly expressed–
And what more earnest tribute could be paid to any man
Whose weary feet have hit the trail towards the Mystery, than:
"He Done His Damdest."
From
The Art of Manliness
...